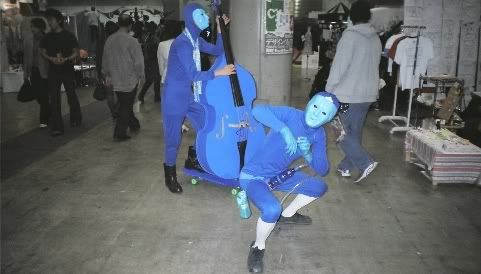 Design Festa

On Sunday, I went to the Design Festa, which is an art festival on the island of Odaiba in Tokyo. You can check out the official website here.

The show was held at the Tokyo International Exhibition Centre ,which is also known as the Tokyo Big Site. It's very large and as you enter you pass through four huge upside down pyramids. In front of these there is a giant saw sticking out of the ground.

The Design Festa allows artists, musicians and fashion designers to showcase their talent. Much of what I saw was extremely interesting to say the least.

Some of interesting things I saw included:

A guy advertising his clothes range dressed as a.......well.....a giant S&M panda.

Someone in a big red trolley thing, who spent the whole day just trolleying about the place.Pornographic ornaments.

A robot with a T.V. on it.

Two people selling cuddly somethings, looking like freaky oversized liqourice allsorts.A man wearing what appeared to be a giant condom, showing a video of himself squatting in various popular tourist locations in Tokyo.Blue people looking as if they belonged in a 70s episode of Doctor Who.

I also got to see a couple of bands. There were a lot of talented people there(and maybe some not so talented) and I had a great day out.

You can check out all of the photos here.