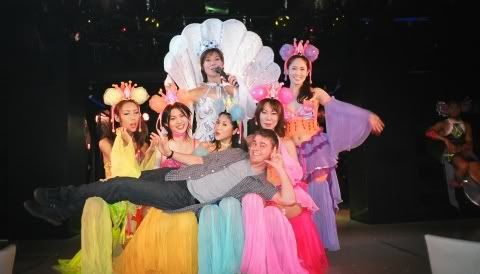 As you can probably guess from the picture, Saturday night was very interesting. It began at around eight o'clock when I went out for a meal with my friends Kiyoko and Sachie. The meal was delicious and afterwards they suggested that we go to see a show at a club called Samurai.

When I arrived at the club I was a little surprised to say the least as all the dancer's in the club were transvestites. And what a great surprise it was. I had an absolutely amazing night. The show was spectacular and was one of the most gloriously camp things I've ever seen. In fact I haven't had so much fun in ages, although I have to admit I was a bit disappointed that they wouldn't let me try on any of their dresses.

I also made lots of new friends and I think I was quite a hit with the ladies/men. Some of them even gave me their cards(I've never felt so popular), although I don't think I'll be calling any of them soon (I'm probably not their type).

A brilliant night and my time in Japan just keeps on getting more and more surreal.


You can see all the photos here.

The official site for Samurai is here.