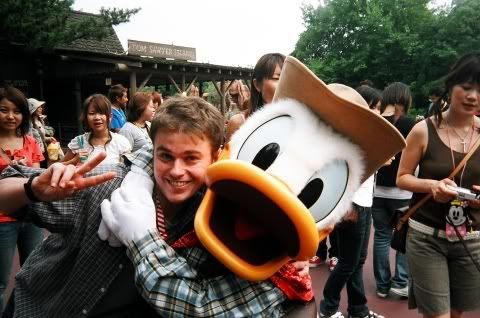 Disneyland

On Monday, I went to Disneyland with my friend Rie and her sister. Tokyo Disneyland first opened in 1983 and is one of the world's most popular tourist attractions with over 16 million visitors a year. It's always extremely busy and on Japan's recent national holiday called Golden Week, people apparently queued for four hours to see some of the attractions. To cater for the Japanese desire for all things Disney, another theme park with a maritime flavour called Disneysea, was opened last year(although not as big as Disneyland you are allowed to drink beer here!).

I arrived at Tokyo Disneyland at nine o'clock and I got an all day pass. I also got a sticker which said it was my birthday(even though it's not until next month) as all Disney employees have to say happy birthday to everybody who is wearing one. In total twenty eight Disney employees wished me a happy birthday(Japanese people are so polite and welcoming!) and some even burst into song and got other visitors to join in. Most hilarious of all when I went on the Star Wars simulator, the Disney employee managed to get around fifty other people on the ride clapping and wishing me a happy birthday.

Disneyland is divided into seven different zones which are Critter Country, Westernland, Adventureland, Fantasyland, the World Bazaar, Toontown and Tomorrowland. I managed to visit all of these areas and my favourite rides were Splash Mountain(I got absolutely drenched!), Space Mountain and Big Thunder Mountain. I also managed to rediscover my childhood on the merry-go-round and the flying Dumbo ride, which were great fun.

In total I spent thirteen hours there. I also got to see two parades of all the characters, some shows and at the end of the day there was a spectacular firework display. This isn't the first time that I've been to a Disney theme park. I originally went to Disneyworld in Florida twenty four years ago when I was a mere child of eight. You can see the pictures of me when I first went to Disneyworld here.


You can see all the pictures of my great day out here.

The official site for Tokyo Disneyland is here.