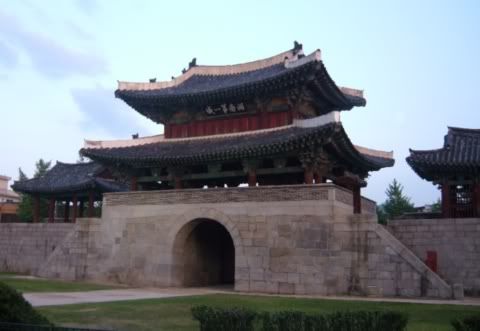 Pungnammun Gate(Jeonju)

When travelling things don't always go according to plan. Sometimes coaches break down, guesthouses are booked up, the guidebook is out of date or it just rains constantly. This weekend was one of those times.

On Saturday I decided to go to the Jeong-eup bullfighting festival, a tradition that goes back in Korean culture over a thousand years. Different to Spanish bullfighting it doesn't involve the battle of man versus beast, but two bulls facing off against each other to see who gains the advantage and it basically involves lots of pushing.

Before going to the festival on the Sunday I decided to have an overnight stay in the nearby city of Jeonju, which also gave a chance to check out some of the sights there.

Whilst walking around Jeonju with my guidebook in hand, looking completely bewildered and lost, I met a man called Kwang Suk, who offered to help me find whatever it was I was looking for. It turns out that he'd just been travelling around South East Asia and was visiting places around Korea as he made his way back home in the south. After chatting for a while he suggested that we go out and get something to eat.

We went to a very nice restaurant, where Kwang suggested I try bibimbap, which is a mixture of rice, meat and vegetables served with a hot sauce. Jeonju is famous for being the birthplace of bibimbap and there are lots of restaurants here which serve it. The ingredients for bibimbap are varied with over 20 different ways of combining them. I tried dolsot bibimbap where the food is served in a heated stone pot, which helps to retain the heat and cook the food whilst eating. The meal we had was delicious and as always it's always nice to try some traditional cooking wherever I am.

Then it was off to a hof, which is like Korean version of a Western pub. What makes a hof different to Western style bars or pubs is that when in a hof you have to order side dishes along with your drinks. There also isn't a bar and the layout of them tends to be more like a restaurant, rather than a western bar or pub where you're more likely to meet some random drunk person who isn't in your group. They aren't too expensive and they make a good start for whatever entertainment is planned for the evening.

After a few drinks here we decided to go a Korean style nightclub called Mool Night(this is how it was spelt). The layout was a lot different to the usual western nightclubs that I'm used to with lots of seating in a huge hall and a dance floor at the other end.

The waiter escorted us along to from of the club where everyone was dancing and handed us the drinks menu. It was then that I learnt about how expensive Korean clubs like this one are. There also wasn't a wide range of drinks with only beer and some very expensive whisky on offer.

Every once and a while a slow song would be played and there would be a huge exodus off the dance floor as everyone went back to their seats to sit down, an experience that took me back to my youth, but obviously without the acne, cider and vomiting.

Whilst sitting down one of the waiters brought over a woman to sit next to me, who seemed extremely embarrassed to be talking to me. This happened three times and I later found out that the Korean waiters had been going around to all of the women sitting down and asking them if they could speak English. If they replied yes, the waiters then apparently dragged them over to sit next to me, which helped to explain the embarrassed silences and giggling.

This is known as a 'booking' and in a nightclub such as this one, if you see that special someone you like, you can ask one of the waiters to bring that special someone over. Obviously all for a small tip, which helps to explain the enthusiasm of some of the waiters to see me with someone.

I had a great night. What I love about travelling is meeting new people, especially when it's completely unexpected and seeing new things. It's the exchange of stories and finding out about the experiences and different perspectives on life from people that make the whole travelling experience so worthwhile.

I awoke the next morning and caught the coach to Jeong-eup. When I arrived I got in a taxi and asked the driver to take me to the festival. He then gave me a strange look as if to say, "What are you talking about, you crazy Englishman?" It was then after he made a phone call that I found out the festival had been cancelled for the weekend and postponed until October.

Feeling somewhat dismayed I got on the KTX and headed back to Seoul. Even though I didn't get to go to the festival I could console myself with the fact that I'd had a very enjoyable time and learnt some very interesting new things about Korean culture.

Fortunately I did have a back up plan......