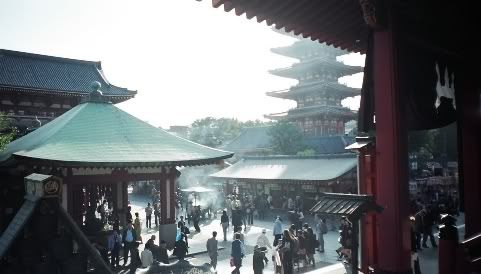 Senso-ji Temple

Asakusa is a ten minute cycle ride from where I live. It's famous for the Senso-ji Temple(also known as Asakusa Kannon) and was founded in the mid seventeenth century to enshrine a tiny golden image of Kannon, the Goddess of Mercy. Entering from the south you pass trough the Kaminari-mon (Thunder Gate) with its huge lantern, named for its guardian gods of Thunder and Wind (Raijin and Fujin). You then enter a huge labyrinth of shops along the Nakamise-dori where you can pick up lots of souvenirs.

The temple has a great atmosphere and overlooking it a huge five-storey pagoda. In the middle of the grounds there is a bronze incense bowl which people gather round to breathe the smoke. Apparently, breathing the smoke is very healthy for you. After this, I went on cruise along the the river and took in some of the sights of Tokyo

You can check out the photographs here.