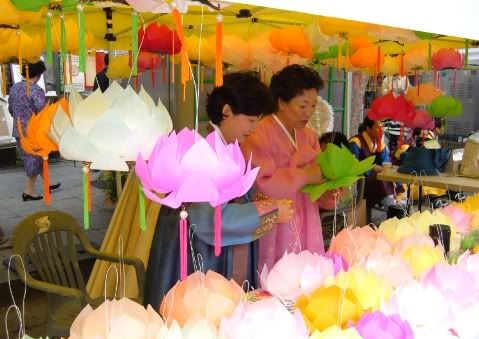 Lotus Lanterns

After arriving in Seoul at around 4 o'clock, I headed to the Jogyesa Temple for the Lotus Lantern Festival. One of the biggest festivals in Korea it is held to celebrate Buddha's Birthday, commonly known in Korea as 'Chopail', which falls on May 15.

Built in 1938, Jogyesa is the largest temple in Seoul and is home to the largest Buddhist sect in Korea. It is here that the main event of the day, a huge procession starting at the Dondaemun Stadium, culminates.

Lotus lanterns are unique to Korea and it is believed that the lighting of them dates back to the Three Kingdoms Period during the 6th century. After this the lighting of lanterns became extremely popular with people at the time of Buddha's Birthday and even when the government tried to suppress Buddhism in the Joseon Dynasty, the lighting of lanterns around Chopail was still allowed, although not officially recognised.

The lotus is a common symbol in Buddhism. As the lotus grows from the darkness of mud and blossoms in the light, it therefore represents the process of shedding ignorance to attain wisdom. The candle inside is also highly important as it signifies the attainment of wisdom. By making lotus lanterns people are therefore aspiring to achieve greater wisdom and spiritual enlightenment.

The streets around the temple were throbbing with activity and it was the first time I'd seen such a large mass of people in Korea. There was plenty of opportunity to indulge in Korean culture, with stalls displaying arts and crafts such as calligraphy, woodcarving and traditional Korean food and drink. There was also lots of traditional music and folk dancing for people to see, which all added to create a great atmosphere. There was even the chance for people to make there own lotus lanterns so that they could join in the parade later.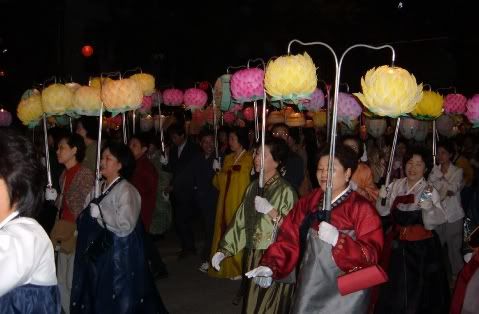 Lotus Lantern Parade

Just after sunset at 7.00pm, the parade began from the Dondaemun Stadium to the Jogyesa Temple. I made my way to the end of the road leading up to the temple to wait for the visual feast of thousands of lanterns passing before my eyes.

I have to say I wasn't disappointed. Leading the parade were hundreds of Buddhist monks, who were followed by literally thousands of other people and an array of floats with huge lanterns on them.

Many of these lanterns were in a variety of forms including butterflies, elephants and other animals, as well as mythical beasts such as dragons. Most impressive of all was a beautifully lit Buddha and the whole evening provided an amazing kaleidoscope of colour for everyone watching.

So all in all a great weekend, even though things didn't quite work out as I'd planned.

For all the photos click here.