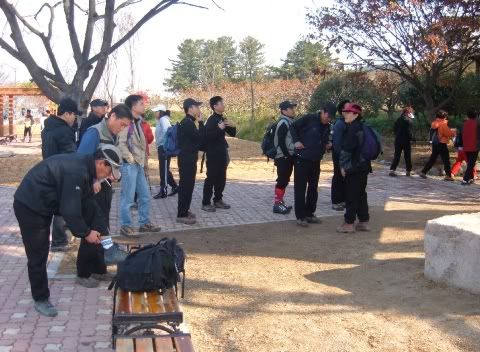 Let's Get Ready To Ramble

Gyeongju - Part III

Around Gyeongju there are hundreds of scattered remains from the Silla period. In particular, Mount Namsan is home to many Buddhist relics from this era, when during this time it was regarded as a sacred mountain.

At 494 metres high, its rugged peaks and beautiful scenery provide a popular destination for South Korea's huge brigade of hikers who flock to the national parks and mountains every weekend, especially at this time of year with the changing colours of the leaves.

Hiking is so popular you could easily be forgiven for believing that it is in fact the national sport. There are shops selling all manner of hiking equipment wherever you go and there are also numerous hiking clubs for people to join.

Korean people also take it very seriously and unlike me, dressed in a pair of dirty trainers and an old plastic mac in case it rained, Korean hikers really push the boat out and the fashion concious hiker here definitely dresses to impress.

At the bottom of Mount Namsan people were busy getting ready for their Sunday sojourn, all looking very professional in their walking boots, knee high socks and gore-tex jackets.

In fact, from what I could gather your average Korean hiker looks more equipped for an assault on K2, rather than a leisurely stroll up what many people would describe as being a rather steep hill.

So with a bottle of Lucozade Sport and a Wagon Wheel in hand(or the Korean equivalent at least), I set off on my expedition.

At the beginning of the trail are the Samneung Royal Tombs, which are thought to belong to King Adalla(154-184), King Sindeok(912-917) and King Gyeongmyeong(917-924). Wherever you go in Gyeongju, you seem to come across a tomb of an important monarch who once ruled the land.

Walking on, I decided to veer off the main path slightly in the direction of the Sambulsa Temple to see the Three Statues of Bae-ri. Away from hordes of walkers making their way up Namsan, the temple was small and peaceful. As I was taking some photos, a Buddhist monk who was dressed in grey robes, typical of Korean Buddhist attire, came over to talk to me.

He asked me where I was from and what I was doing in South Korea and I told him my story of how I was teaching here and the wonderful time I was having travelling around and meeting so many new people.

'Ahh...you must love Korea', he replied.

He then went on to talk about the history of Mount Namsan, how beautiful it was and that he was learning English, but was finding it very difficult. I complimented him on his use of the language and told him that I had no problem understanding him.

'Oh no. My pronunciation is not good.'

Then the conversation turned in to an impromptu English lesson, probably the last thing I was expecting on my day out. I helped him practise the different sounds for words and some dialogues he had obviously learnt from a home study tape he had been listening to. I was more than happy to help and in the end we must have ended up talking for nearly twenty minutes.

'You are a good teacher. Wait here. I have something.'

He went back into his living quarters just next to the temple and to my surprise brought out for me a small wooden Buddha and a postcard of the statues of Bae-ri.

'Have good memories of Korea.'

As I left I thanked him for his generosity and complimented him on his English once again, before leaving to see the statues.

Located at the foot of Mount Namsan, the Three Statues of Bae-ri were brought to their present site in 1923 from the nearby Seonbang Temple site and it is believed they were made during the 7th century. The central statue is of the Buddha, which is flanked on the left by the Bodhisattva Avolokitesvra(the Bodhisattva of Compassion) and on the right by the Bodhisattva Mahasthamaprapta(the Bodhisattva of Power).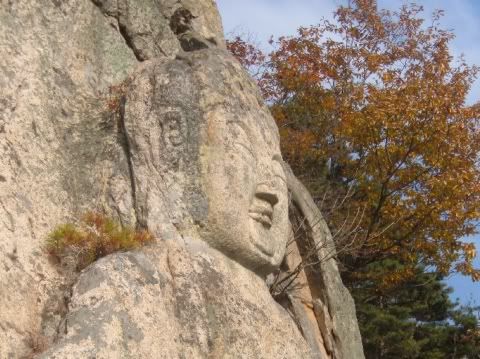 Buddha

After looking at the three Statues of Bae-ri I walked back the way I had come and rejoined the main path leading to the peak. There was now a steady stream of walkers all making their way upward.

After a short time I came to a Buddhist statue in the sitting position with its head missing, removed in one of the many invasions of Korea. Just above this was another image of the Buddha carved into the rock.

I made my way onwards and the climb gradually became harder. On my way I passed more Buddhas and Bodhisattvas carved into the rock, all exquisite in their craftsmenship. In front of them were altars with burning incense and candles. Many people put their hands together and bowed in front of them. Some even left offerings of food and drink.

As I started to near the top, my legs began to ache and I thought back to my time climbing Mount Fuji in Japan. Fortunately this climb was a lot shorter, so I didn't have to worry about the ill effects of altitude sickness or feeling unable to move the next day, this time around.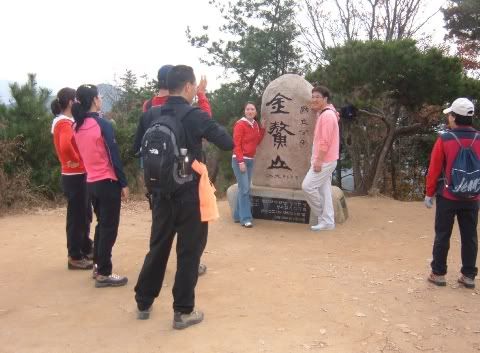 Top of Mount Namsan

Once at the top I stopped to have rest and survey the view. The scenery all around was breathtaking and sitting around were people having picnics. Others who had just reached the top were having their photo taken in front of the summit marker.

I stopped for a short rest to take in my surroundings and the achievement of reaching the top and then made my way back down with the other walkers, to return home back to Seoul.

Namsan is a treasure trove of history and there is nothing else quite like it in the rest of South Korea. It provides a window into a time when the Buddhist faith was at its peak in Korea and at almost every turn it seems as if there is something interesting. Having only explored a small portion of the many sights it has to offer, as I finally made my way home, I promised myself that one day I would hopefully return to this place to sample more of its unique history and beauty.

You can see all the photos here.


Here's a short film I made of the day.