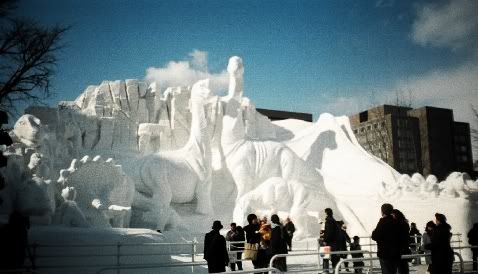 Sapporo Snow Festival

Last weekend, I went to the Sapporo Snow Festival(Yukui Matsuri), on Japan's northern most island, Hokkaido. The official website for the festival is here.

The snow festival first began in 1950, when local highschool students built six snow statues in Odori Park. Now it's one of Japan's biggest winter events and attracts around 2 million people over its seven days to see the snow and ice sculptures.

The festival now has an international snow sculpture competition and other events which include ski-jumping and musical performances.

Sapporo is also famous for its beer and it hosted the 1972 Winter Olympics as well.

I caught a plane at 6.30 from Haneda airport in Tokyo on Saturday morning. I arrived at my hotel in Sapporo feeling pretty exhausted at about 9.00 as I hadn't had much sleep the previous night before. The hotel I stayed at was the Keio Plaza Hotel which was very nice (a lot classier to what I'm used to), if a little expensive.

It was really cold but I had a very nice time. Many of the statues and sculptures were very beautiful and the amount of time and effort that goes into them is amazing. It's just a shame that they don't last forever.

I even got to make my own snowman in an event to make as many little snowmen as possible, in order to get into the Guiness Book of Records.

Other highlights included my trip up Mount Moiwa to see the view of Sapporo. Unfortunately there was a huge blizzard and I didn't get to see much. I did get to have some miso ramen(noodles) in a nice restaurant at the top, which was delicious.