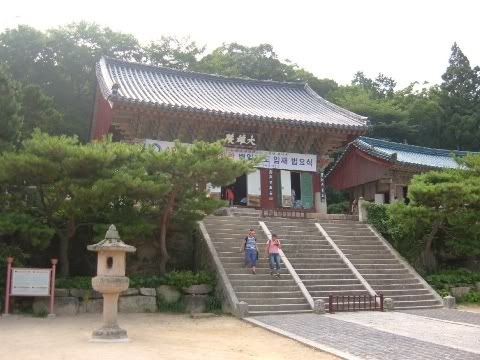 Beomeosa Temple

The next day, I went to the Beomeosa temple, one of Korea's oldest Buddhist temples, which lies at the foot of Mount Geumjeongsan, to the North of Busan. The temple was originally founded in 678 AD by the priest Uisang-daesa.

Legend says that one day golden fish came down from Nirvana to play in a well at the top of the mountain, which caused the water to glimmer like gold. Hence the name of Mount Geumjeongsan, which means 'gold well' and the name of Beomeosa Temple, which means 'where the fish from Nirvana play'.

The climb to the temple is about 3km along a winding road, so in the heat and humidity that South Korea is currently experiencing, I wisely decided to take a taxi.

Surrounded by coniferous trees, it is set amid some extremely beautiful scenery and there is definite feeling of peace and tranquility here, despite the crowds leading up to the temple.

The entrance gate to Beomeosa Temple is supported by stone, which is unlike other temples where the entrance gates are usually wooden. Walking up steps towards the main hall you pass through a number of gates, most impressive of all which is the Gate of the Four Heavenly Kings. Guarding the entrance to heaven, the huge carvings here are beautiful to look at and are common to many temples in Korean culture.

Further up you come to main temple complex itself. I love visiting temples as I always feel a sense of peace and serenity when I am in one. It's partly a combination of the architecture, the smell of burning incense and general ambience that help to create an atmosphere quite unlike any other in Western culture.

At one point the temple had over 360 rooms and 1000 monks in residence. During the Japanese invasions of the late 16th century the temple was destroyed and now only a stone pagoda and lantern date back prior to these events.

Deserted for ten years after it was destroyed, reconstruction was finally completed in 1713 and the temple has remained intact to the present day. Although now smaller, it is still an impressive site with its stone pagodas, ornate carvings and huge bell.

Hoguk Buddhism is also practiced here, a form of Buddhism which is based on the belief that Buddhism protects and defends one's country. It's also possible to stay here as part of the temple stay programme, where you have the chance learn about Buddhism and even practice a traditional Korean martial art known as 'pulmudo'.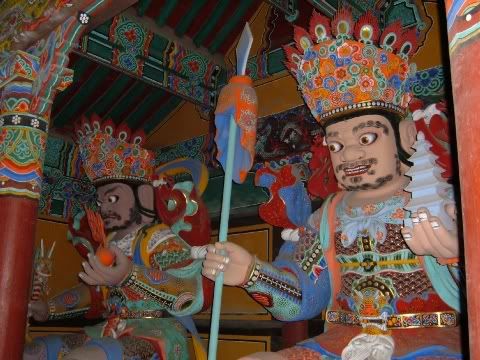 Heavenly Kings

After admiring the beauty of the temple, I went back down and luckily some Korean people very kindly let me join them in a taxi back to the subway station and then it was off to Haeundae beach, for the 10th Annual Busan Sea Festival.

The beach was packed with people who had come to watch various Korean artists perform and a good night was had by all, despite the weather's best attempts to rain.

I also had the pleasure of accidently staying at a hotel in the red-light district that I had checked into earlier that day, just next to Busan Station. Although I didn't actually realise this until it was night-time and I was walking back.

There is a large foreign population living in this part of Busan and at around 3.00 am in the morning, I was woken up by what basically almost amounted to a full scale riot, between around ten big and burly Eastern European men and a group of Koreans. I had an ideal spectators viewpoint from my hotel room, to watch the carnage of bottles being broken and chairs being thrown.

Fortunately, after not actually witnessing any blood or unnecessary mutilations, the police arrived to break up the fracas, finally allowing me to get back to sleep.

The very next morning I decided to check out and find somewhere that was perhaps a little quieter, as I thought this would probably be for the best.
You can see all the photos here.


Here's a short film I made of the Beomeosa Temple.