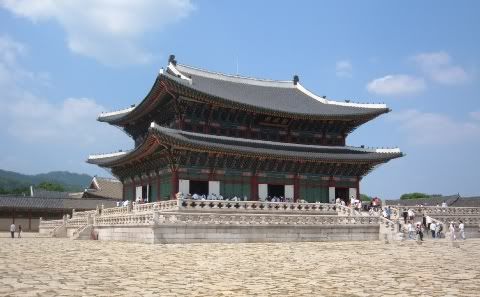 Geunjeongjeon Main Hall(Gyeongbokgung)

Gyeongbokgung is by far the most famous and beautiful of all the palaces in Seoul and with a history spanning more than 500 years, it is also one of South Korea's most popular tourist attractions.

Built in 1395 by the founder of the Joseon Dynasty(1392-1910), King Taejo(r. 1392-1398), it served as the main residence for royalty, up until it was burnt down in 1592 during the Japanese invasions.

It lay in ruins for 300 hundred years until it was rebuilt in 1868 by Heungseon Daewongun(1820-1898), the regent and father of King Gojong(r. 1863-1907). During this time Changdeokgung was used as the main palace.

Under the colonial rule of the Japanese(1910-1945) many of the buildings were destroyed and the area became the site for the headquarters of the Governor General of Korea.

In recent years much effort has been made to restore the palace to its former glory, a process which it is hoped will be completed by the year 2020.

At the southern entrance to the palace grounds is the main gate. Known as Gwanghwamun, at various times throughout the day guard ceremonies are performed here, which really help to bring alive the pageantry of a past time.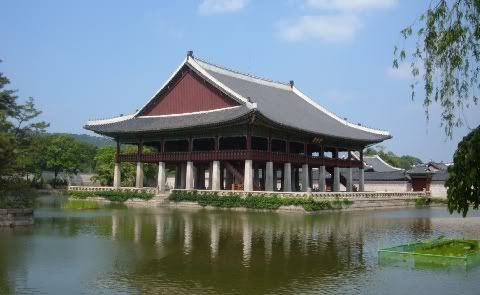 Gyeonghoeru Pavillion

Just beyond this lies the main hall, Geunjeongjeon, where the king would have held official functions and conducted state affairs.

Other buildings include the 48-columned Gyeonghoeru Pavillion, which was erected by King Taejo in the western section of the palace grounds. Built on a man made lake for festivals and entertaining guests such as foreign dignitaries, the king would also have used it for boating.

At the northernmost section of the palace grounds is the Hyangwonjeong pavillion. Built on a small isle, this two-storey hexagonal structure is situated at the centre of a beautiful lotus pond and rock garden. Despite the throngs of tourists and school parties, it's easy to imagine how the kings and queens of a bygone era would have come here to relax.

You can see all the photos here.


Here's a short film of Gyeongbokgung Palace.