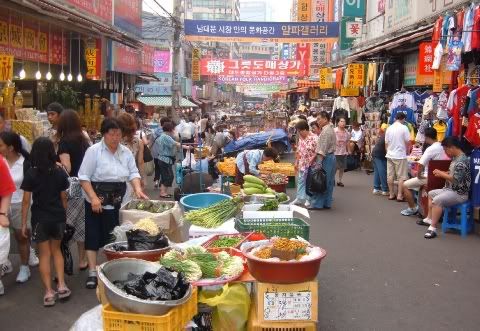 Namdaemun Market

Named after the nearby Namdaemun Gate, Namdaemun Market is one of the biggest wholesale markets in South Korea, covering a total of over 10 acres. Established in 1414, it is also the oldest and largest, with over a 1000 shops, retailers, stalls and vendors selling anything and everything that you could possibly imagine.

Namdaemun is renowned for being inexpensive and small retailers come here to buy their goods from wholesalers, which they then resell. As most of the businesses in the area concentrate on wholesale, this allows the individual buyer to purchase things more cheaply and there are bargains galore on offer.

It's also very popular with Korean people and tourists as well, who are looking for a bit of atmosphere plus the odd bargain and is definitely worth checking out while in Seoul.

I went here today to buy a rucksack and a few other things for my holiday next week, when I'll be travelling to Busan on the southeastern coast. Hopefully I'll also get to go to couple of other places as well if I have time and weather permitting.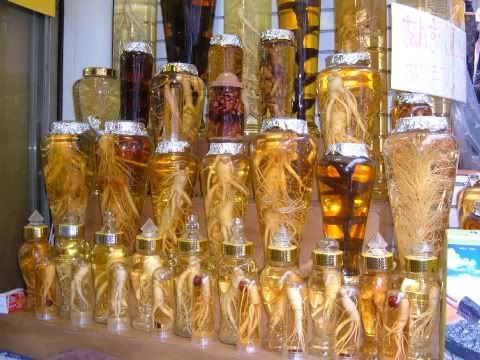 Ginseng

One of the most noticeable things about the market that I haven't seen before were the number of shops selling gingseng. Very popular in Korea and throughout Asia it is believed ginseng has medicinal qualities, that amongst other things can cure fatigue, strengthen the immune system, lower high blood pressure, and purify the blood from toxin.

Sounds like the perfect soju-induced hangover cure to me.
When I got home from a hard days shopping(and haggling) I checked the BBC's website and to my surprise they had included my blog as an example of how people are now using digital media. You can check out the article here.

You can see all the photos here.