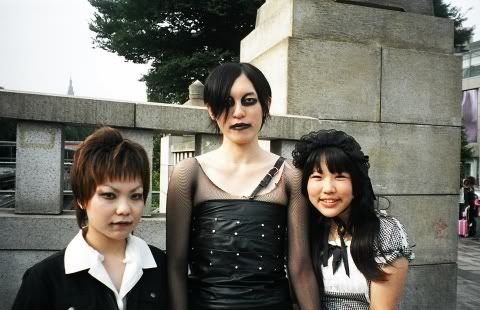 Harajuku

Just north of Shibuya lies Harajuku, which is one of the centres of youth fashion in Tokyo.

Opposite the station is the Takeshita-dori, a four hundred metre long road that is crammed full of shops and boutiques. At weekends it's nearly impossible to move through here because it's packed with so many people. It's along Takeshita-dori that the Japanese youth come to buy their fashion, be it hip-hop, punk, goth, western or Hello Kitty cute.

Turning right at the bottom of Takeshita-dori and then walking to the crossroads you come to Omotesando-dori which leads to the Meiji Jingu Shrine. The Omotesando-dori is known as Japan's Champs-Elysee and it's along this elm lined street and the nearby district of Aoyama that you'll find restaurants and trendy designer boutiques like Chanel, Dior and Vuitton.

South of Harajuku Station, on the bridge which leads to the Meiji Jingu Shrine, is where a lot of Japan's alternative youth culture likes to hang out at weekends. Here there are teenagers in all manner of strange clothes, each weirder than the next and it really is a curious sight. Some are dressed as goths, some have their faces painted white like china dolls and some have bandages with fake blood pouring from them. They really don't mind having their photo taken, in fact they quite enjoy the attention.

Next to the Meiji Jingu Shrine is Yoyogi Park, which is a great place to go spend a lazy Sunday afternoon. There are lots of people performing here and there's something here for everyone, ranging from juggling, rock bands and dance music to people drumming, bmx-ing, skating and painting. It's a lovely place to go and relax and there's a really nice chilled out atmosphere. Most interesting of all are the rockerbillies with their huge quiffs, dancing (although not quite in time to the music) at the entrance to the park.

You can see all the photos here.