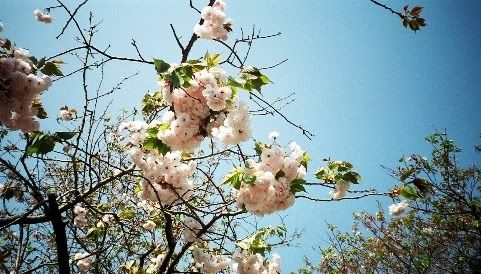 Cherry Blossom

Japan is at its most beautiful in the spring when the cherry blossom (sakura) comes out. In Tokyo there are lots of parks and places where you can go and see it.

People celebrate by having hanami(cherry blossom viewing) parties, which is a very good excuse to eat and drink lots. The blossoms are very delicate and only last a short time, around ten days at most.

Hanami was originally a religious ritual enjoyed only by nobility and the upper classes. It took place before the planting of seeds and was used to forecast the harvest for the coming year. From medieval times and onwards the symbolism of its fleeting beauty was adopted by the Samurai and in Buddhism. Then towards the end of the seventeenth century more common people began to enjoy hanami parties.

One of the most popular places for hanami parties is in Ueno Park.

Another popular place to go to is Inokashira Park in Kichijoji. Here there is a lake where you can enjoy the cherry blossom from the comfort of your very own swan boat.

Here's a short film.






You can see the photos here.