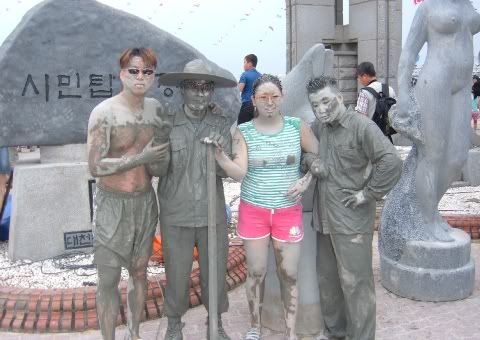 Boryeong Mud Festival

Last Saturday, I went to the Boryeong Mud Festival on the western coast of Korea, about two and a half hours drive from Seoul. It is held along the 3.5 km long white sand beach of Daecheon, which is surrounded by mudflats, now the area's most valuable asset.

Daechon is a town which feels not unlike the commercialised resorts in Britain with its theme park rides and large hotels and it definitely isn't the place to come to if your looking for that quiet seclusion most travellers crave, as it can get pretty busy at weekends during the summer months.

There were a number of events held throughout the course of the festival including mud sliding, mud wrestling, a grand mud bathtub, mud football and a mud beauty contest. In fact just about any activity where it would be fun to get muddy.

The festival was started in 1998 to promote the sales of mud related cosmetics in the area and in the seven years it's been going it has become one of the biggest festivals in Korea with approximately 2.5 million visitors this year.

It is also the festival that attracts the most number of foreigners with some 30,000 turning up this year, all apparently unable to resist the apparent charms of a mud and alcohol fuelled weekend. At times it almost seemed as if every single English teacher in Korea was there.

You can buy mudpacks, mud body cleanser, mud sun block lotion, mud soap, mud shampoo, mud cleansing cream, in fact just about any beauty product you could think of, the manufacturers had somehow managed to make out of mud. Or you could just scoop some up in a bucket and get it for no charge whatsoever if you were that way inclined.

Of course most people weren't there for the cosmetics or the health benefits of the mud, they were there for a good time and it was great to see everyone letting their hair down, all completely caked in mud. Despite the rain throughout much of the Saturday people's spirits weren't dampened and the party went on well into the night, even after the fireworks and bands appearing at the festival had finished.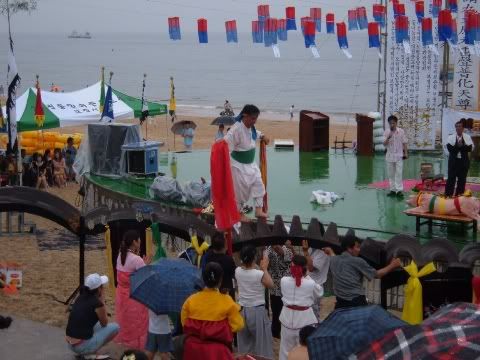 Ouch!

There were also lots of traditonal Korean events to see and most interesting of all was a shaman ceremony, which involved shaman priests walking barefoot over what can best be described as an assault course of huge blades, where the slightest mistake could have resulted in some very nasty injuries. It was thrilling to watch and it definitely had the crowd on the edge of their seats and fortunately for everyone watching there wasn't any blood.

The following morning I decided to test the health benefits of the mud for myself so I went to the Boryeong Mud Skincare Centre. For 30,000 won I got an all over mud massage and face pack.

Rich in nutrients and minerals such as germanium and bentonite, apparently it's highly effective in preventing contraction and aging of the skin and also aids the body's metabolism, circulation and nerves. I'm not too sure about the health giving properties all the marketing men would have us believe, but it's definitely worth it even if it's just for the experience.

For all the photos click here.