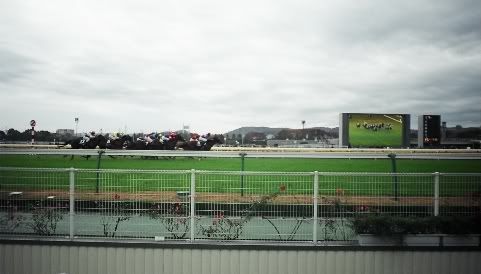 The Japan Cup

On Sunday, I went to the 23rd Japan Cup at the Tokyo Racecourse in Fuuchu. The Japan Cup is the biggest horse racing event in Japan.

Horse racing is very popular in Japan. Here are some horsey facts:

-Each year approximately 200,000 fans go to the race and the first prize for winning is 250 million yen.

-Nearly 4 trillion yen is bet on approximately 3,500 races every year in Japan.

-In 1996, nearly a billion dollars was wagered on a single race (the Arima Kinen). In that same year, over 14 million people attended horse racing events in Japan.

-One of the most famous jockeys in Japan is Yutaka Take, who won the prestigious Grade 1 Prix de L'Abbaye at Longchamp in 1999.

-In total ,18 horses raced this year.

-10 years ago, foreign jockeys were first allowed to race for the first time. Famous jockeys who have raced in Japan include the Frenchman Olivier Peslier, Italian Mirco Demuro, American Kent Desormeaux and the Italian Frankie Dettori.

Getting to the racecourse is very easy by taking a JR train from Shinjuku. When I first got there the first thing I saw were the horses being paraded around the paddock before the next race. You can see the photos here.

After this I decided to explore the huge stadium. Betting in the stadium is computerised and is done by filling out a card and putting it into a machine. Fortunately there were some stewards on hand to help me do this the first time.

In total, I bet on four horses throughout the day, but unfortunately I didn't win anything. I only lost 2000 yen(11 pounds) though.

I saw lots of races throughout the day and there was a great atmosphere. Fortunately it didn't rain. The winner of the Japan Cup was Tap dance City(11-1), ridden by T. Sato.

Like everything in Japan there's cuteness everywhere. You can check out Jockey Kitty here.

You can see all the photos here.