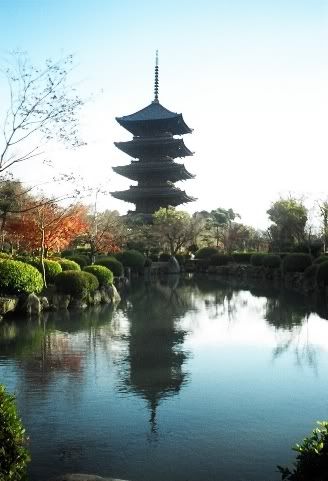 Kyoto
I went to Kyoto on Christmas Day and I stayed at the Tojian Guesthouse, which is about ten minutes west of the station on foot. I met lots of great people here and it was really friendly. There was also no curfew, which is something you tend to get in a lot of Japanese guesthouses. This allowed to stay up drinking late. I was also introduced to Jinroo, a Korean alcoholic drink which is extremely nice.

Kyoto was the capital of Japan for more than a thousand years and the number of temples, shrines, museums and places to visit is phenomenal so on this visit I just looked at the eastern side of the city.

The To-ji temple, just west of the station, was founded in 794 by Emperor Kammu. At the To-ji temple you can see a five-storey pagoda, which is Japan's largest. Next to the pagoda are two buildings, the Ko-do and the Kon-do, which both which house many statues and images of the Buddha.

You can see the photos
here.


Just east of the station is Sansusangen-do. In the large hall here there are 1001 gilded statues which are amazing to look at. The statues were comissioned by the emporer Go-Shirakawa in 1164 and each statue is different in some subtle way.

Walking north east you come to Kiyomizu-dera. There has been a temple here since 778 and nearly all the buildings date from 1633. This temple is famous for it's waterfall which is supposed to cure any illness if you drink it.

The photos for Kiyomizu-dera are
here.


From Kiyomizu-dera, I then went along the old cobbled lanes of Sannen-zaka(Three-Year Slope) and Ninen-zaka(Two Year Slope). Some of the paving stones were laid in the ninth century and the houses date from the 1800s. It was here that I saw a maiko, which is an apprentice geisha.

You can see the photos for Sannen-zaka
here.


Yasaka-jinja is a very brightly coloured temple and has a Buddhist style gate, which is a result of when Buddhism and Shinto were together.

The photos for Yasaka-jinja are
here.


East of Yasaka-jinja is Chion-in. This is a very big temple that was founded in 1175 by the priest Honen. Chion-in also has the Daisho-bell, which is the largest in Japan.

You can see the photos for Chion-in
here.


North of Chion-in is Nanzen-ji, which is one of the most important in Japan. The gate here is called San-mon and is huge. It was built in 1628 to commemorate the soldiers that were killed during the siege of Osaka Castle.

You can see the photo of Nanzen-ji
here.


From Nanzen-ji you can then take the Philosopher's path to Ginkaku-ji. The path is two kilometres long and is named after the philosopher Nishida Kitaro who used to walk daily along the hillside.

Ginkaku-ji(Temple of the Silver Pavilion) is a lot smaller than a lot of the other temples, but nonetheless is still very beautiful. There is also sa and garden with a large cone in it.

You can see the pictures for Ginka-kuji
here.


You can see all of the photos here.