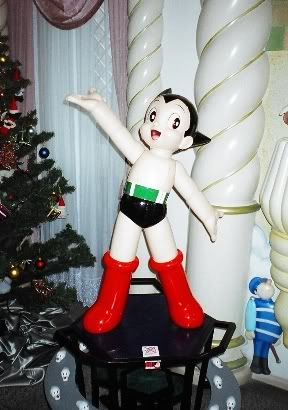 Astroboy
On the third day of my holiday I went to Takarazuka, a town situated 20km northwest of Osaka.

Takarazuka is famous for it's all female musical/dance/drama troupe, called, originally enough, Takarazuka. The Takarazuka Review company was founded in 1914 by railway tycoon Kabayahi Ichizu.

Apparently, thousands of girls each year apply to join at the age of sixteen and then devote themselves to their art. The company motto is 'modesty, fairness and grace' and upon joining they aren't allowed to have boyfriends. Fortunately for them I was sitting at the back of the theatre.

The show I saw was spectacular and the singing, dancing and sets were unbelievable.

The story was your average tale of vampire meets girl, vampire loses girl, vampire gets chased by nazis. Trust me, the plot got even stranger.

If you've got 6000 yen to spare, you can even dress up like a takarazuka showgirl if it takes your fancy.

Definitely worth going to see if you ever have the opportunity, although getting tickets can be a little difficult. They also have a theatre in Tokyo.

The official website is
here.


After this, I went to the Tezuka Osamu Manga Museum. Tezuka Osamu Tezuka(1928-89) was born in Takarazuka and is regarded as the 'god of manga'. He created Astro Boy, Blackjack and Kimba the White Lion. The museum charts his career and there are many interesting exhibits and galleries. There's even the opportunity to create your own cartoons.

Click
here
for the photos.

Click
here
to go to Tezuka Osamu world.

Manga caters for all tastes, ages and sexes and is very popular in Japan. Everywhere you go you see shops selling manga and people reading it. The most popular is called Shukan Shoren Jump and regularly sells five million copies a week.