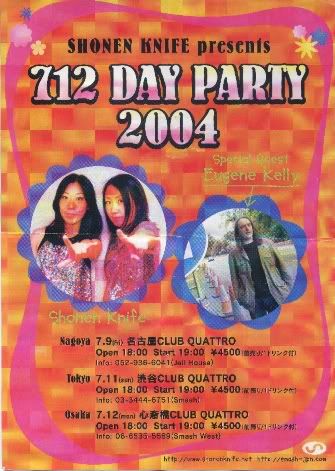 On Sunday, I went to see Japanese punk-pop trio Shonen Knife, at Club Quattro in Shibuya. The band were originally formed in Osaka in December 1981 and have released a total of sixteen albums. Their musical style is often compared to being like a cross between The Ramones and The Beatles, but there is a lot more to them than this.

Surprisingly they've experienced greater popularity outside of Japan and have played many gigs in the United States and Britain, having even toured with Nirvana. In fact Kurt Cobain cited them as being one of his favourite bands. Other famous bands who are fans include Sonic Youth and Redd Kross among others.

Shonen Knife were supported by Eugene Kelly, a singer formerly of The Vaselines and Captain America. He's a singer who's been around a while and the cynicism and apathy he obviously feels about life comes across in his songs. He's downbeat and so are they. However the audience had come to see the loud raucous punk-pop of Shonen Knife and although a talented musician with well crafted songs, he didn't really strike much of a chord with them.

Then Shonen Knife came on. Walking on in their sparkling tops they let rip with their guitars and the audience were fired up for what was to come. They played a set that lasted an hour and a half and the audience absolutely loved it and for the whole of this time, I was in the mosh pit, loving it with them.

I've never ventured into the mosh pit at a gig before and I have to admit it was certainly an interesting experience, especially with all the young and crazy Japanese fans. I spent the whole time jumping around, shoving people, being shoved by people and generally freaking out with the rest of the audience. The Japanese fans really know how to let themselves go and have a great time. By the end I was completely exhausted and I'm thinking I'm going to be feeling it in my legs for weeks to come.

I loved the gig and Shonen Knife are a definite must see if you ever have the chance. Their brand of cutesy Japanese pop-punk is quite unlike anything I've heard before. It was impossible not to get taken away with the music and the love that all the fans have for their three sparkly heroines. Every song they played was great, every tune they had was catchy, everybody had a wonderful time and everybody left happy.


Click here for the official Shonen Knife website.