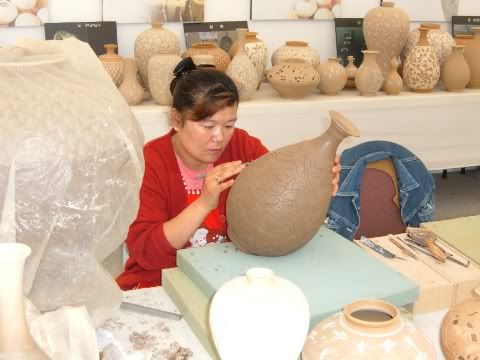 In Korea you get lots of national holidays added to your weekend, so last Monday I went back to Icheon for the World Ceramics Biennial with my friends Kate, Jo and Laura.

Ceramics in Korea have a long and rich history dating back over a thousand years, when techniques for producing them were adopted from China. Korean artisans using these methods adapted them to give them their own distinct flavour and look, to make ceramics one of Korea's great cultural emblems.

Ceramics became prominent in Icheon during the Joseon Dynasty(1392-1910) and production here dates back to the Goryeo Dynasty(918-1392). Today Icheon is the home of ceramics and one of the many places in Korea where it is possible to view them. There are over 80 ceramics factories in the area surrounding the Icheon Ceramics Village and there are around 300 kilns in use.

Walking into the grounds the first thing we saw were rows of tents with people busily engaged in making pottery and carving ornate designs onto them. Other tents provided the opportunity for visitors to make their own pots and create their own designs, all very popular with the children there.

We then made our way to a very interesting exhibition on the history of ceramics in Korea and then it was onward to the Icheon World Ceramic Centre. This huge building houses four galleries containing ceramics entered into competition not only from Korea but from all over world. My favourite piece was definitely an old dilapidated car made entirely from ceramic.

One of the more interesting exhibits entered into the competition was an entry from China with a ceramic McDonald's logo, painted not in gold, but with the design of a dragon on it. The reason for the redesign of a corporate logo which signifies America's global dominance around the world was clear. China, symbolized by the dragon was eventually going to overtake America in it's importance globally in the coming century.

An interesting political statement as I'm sure you'll agree, but as I said, I really liked the car.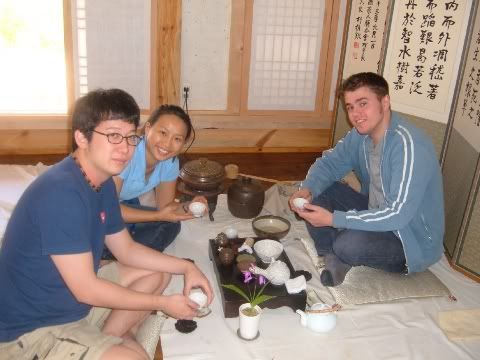 After leaving the ceramic exhibition we decided to sample the delights of a traditional Korean tea ceremony. Less formal and ritualized than other tea ceremonies, it proved to be very enjoyable(despite my dead legs from sitting down for so long in one place) and helped to nicely round off another fascinating voyage into the world of Korean culture.

For all the photos click here.