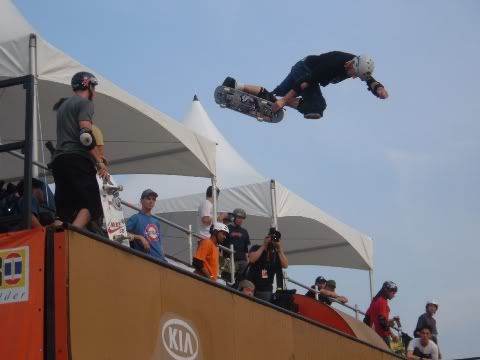 X Games

Yesterday, I went to the X Games in Seoul, to see all manner of death defying acrobatics and dangerous stunts, all of course in the name of sport.

The X Games is an extreme sports event that was devised by the TV channel ESPN and was first held in 1995 in Rhode Island. It changed it's name to the X Games the following year and the first ever Asian X Games took place in 1998.

The event was held at the Jamsil Sports Complex, where Ben Johnson infamously tested positive for drugs in the 1988 Olympics after winning the hundred metres in a world record 9.79 seconds.

I still remember it clearly to this day, watching a man pushing the boundaries of what a human was capable of physically achieving. The sheer power and aggression of him running down the track almost seemed like a force of nature. He didn't just break the record at the time, he completely destroyed it.

Then afterwards there was the media frenzy of what was the largest drugs scandal in sporting history at the time. Events which have probably altered how we view future sporting achievements for evermore.

The days events included skateboarding(vert and park), inline skating, BMX(vert and park), wakeboarding and sport climbing.

It was all very exciting to watch, especially the skateboarding as the boarders performed all manner of tricks, as they went back and forth across the half pipe. It almost made me wish I could go back in time to the age of fourteen and learn how to skate.

Most probably my favourite event of the day was the motocross, a demonstration event where riders performed jumps across two ramps, which really got the crowd excited and had them 'oohing' and 'aahing' to each more dangerous stunt.

This is what I think is so appealing about these sports. Not only the skill involved, but the danger of them. The slightest error can result in not only failure but extreme pain for the sportsmen. Watching people do things that mere mortals such as myself could only ever dream about is what definitely made it all so thrilling.

It was all pretty spectacular to watch and has definitely got me in the mood for trying something a little bit more extreme, the next time the opportunity arises.

For all the photos click here.