Tuesday, June 23, 2009
Wednesday, June 17, 2009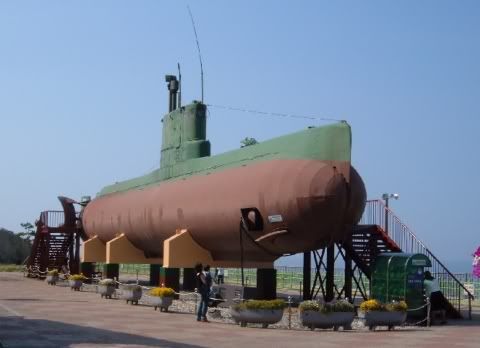 North Korean Submarine

After the festival, I walked around Gangneung for what seemed to be a neverending quest for a beer and something to eat. I eventually ended up in a bar called Bacchus, where I met the owner, Chung Song, who kindly sat down for a few drinks with me. It was an enjoyable evening, as it always is when meeting new friends, and Song very generously offered to take me around the Gangnueng area the next day for a bit of sightseeing.

The following day we met up and went out for some noodles. We firstly made a short stop at Gyeongpo beach and then it was off to the town of Jeondongjin, which is twenty kilometres south of Gangneung and is famous for having a captured North Korean submarine on display, as well a train station on the beach.

Heading towards the town along the coast there is a huge cruise ship on top of a hill; a striking image, if a little surreal, which Chung Song explained to me was a luxury hotel complex.

Driving along the coast I couldn't help but notice the fences lined with barbed wire alongside the road where it meets the beach, a preventitive measure obviously to reduce the threat of North Korean's trying to enter the country. It gave a somewhat oppressive feel to the otherwise beautiful scenery, but I suppose these are the modern realities of the situation between the two countries which are still officially at war.

I then asked Song what he thought about North Korea.

'North Korea is very bad.'

He then went on to tell me about how he had to do national service for a total of two years at the age of nineteen, something that all men in Korea have to do. I got the distinct impression it was something he would have preferred not to have done, what with it taking up such a large part of his life.

Once in Jeondongjin, we went to the Unification Park Museum, which contains a variety of things obtained from the submarine such as firearms, ammunition, diving suits, uniforms and telescopes used by the North Korean military at the time of the infiltration. It was quite remarkable seeing all these things, but what surprised me most was a Pepsi can that had been found on board, as well as a Japanese camera. So much for the North Korean government's viewpoint on the evils of consumerism.

Then we went down towards the seafront to visit the North Korean submarine. Weighing 325 tonnes it is 35 metres long and had a top speed of 13 kilometeres an hour. Once inside I was surprised by its size and how cramped it must have been for everyone on board.

The submarine became grounded on rocks on 17 September 1996. The commander of the vessel burnt all the important documents relating to the mission, the effects of which can still be seen inside the burnt-out cabin. 11 of the crew members were then shot, either in a suicide pact or by the soldiers on board.

The manhunt for the remaining 15 soldiers and agents once they had arrived on land lasted for 49 days as they attempted to return to North Korea. By the end 13 were were killed, 1 was captured and 1 had escaped. 17 South Koreans including 4 civillians were also killed and there were 22 others injured.

I had a wonderful weekend and it turned into far more than I ever could have expected. The Dano Festival was a terrific experience and I also got to learn a little more about the history and relationship between North and South Korea, something I'll hopefully be delving into a little bit further as my stay here continues.

For all the photos click here.


Sunday, June 14, 2009
Thursday, June 04, 2009